---
12:30

– 13:45

13:45

– 14:45

14:45

– 15:45

15:45

– 16:45

16:45

– 17:45

17:45

– 18:45

18:45

– 19:45

19:45

– 20:45

20:45

– 21:45

21:45

– 22:45

22:45

– 23:30

Gunz for Hire

Baddest on the Block

23:30

–

End show

---
12:30

– 13:30

Revelation vs Spectre vs Code Crime

13:30

– 14:30

14:30

– 15:00

Deezl vs So Juice

Cybergore

15:00

– 15:45

15:45

– 16:45

Cryex vs Scarra vs Vasto

Apex Allstars

16:45

– 17:15

17:15

– 18:15

18:15

– 18:45

18:45

– 19:45

19:45

– 20:15

20:15

– 21:15

21:15

– 22:00

22:00

– 23:00

---
14:00

– 15:00

15:00

– 16:00

16:00

– 17:00

17:00

– 18:00

18:00

– 19:00

19:00

– 20:00

20:00

– 21:00

21:00

– 22:00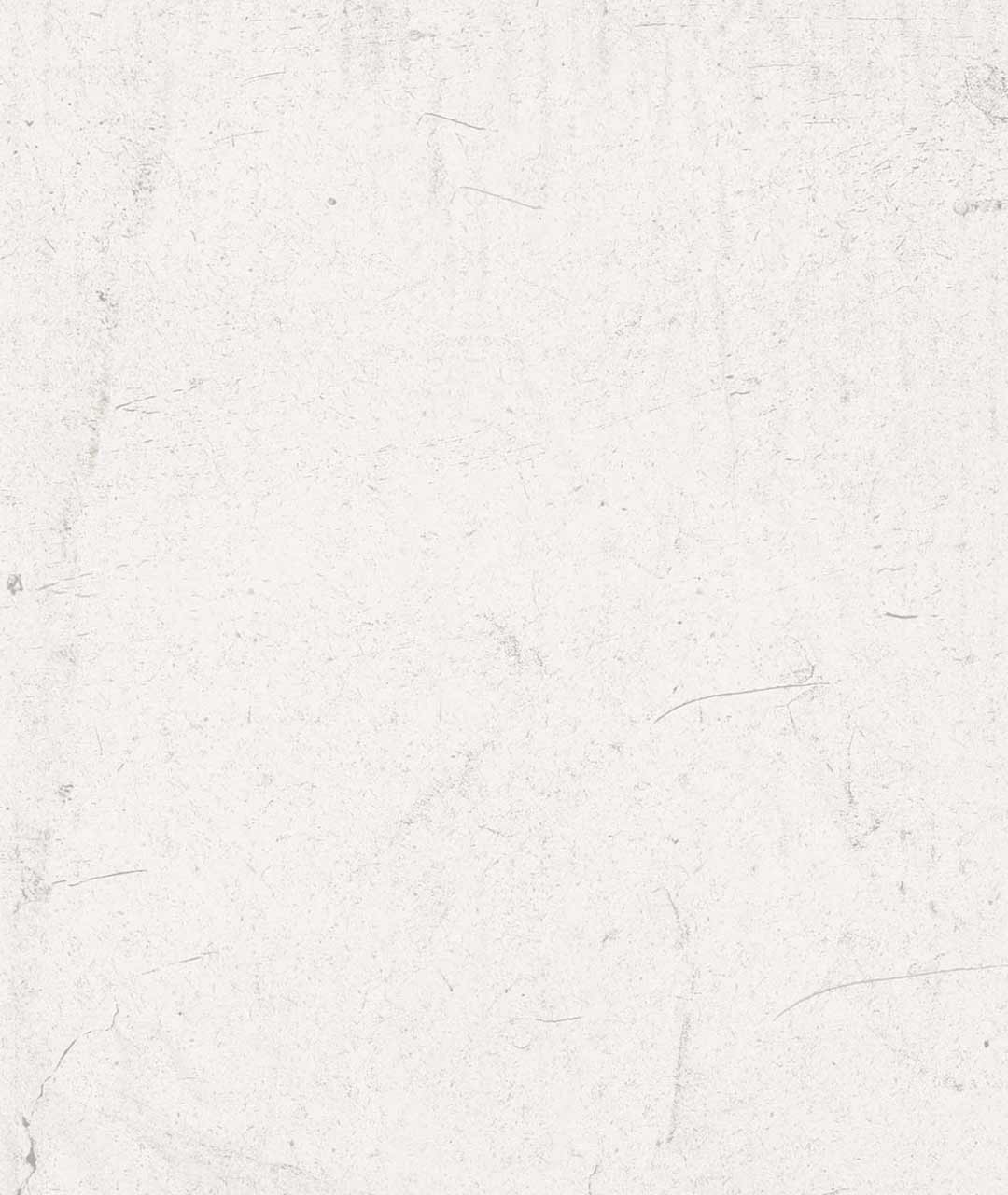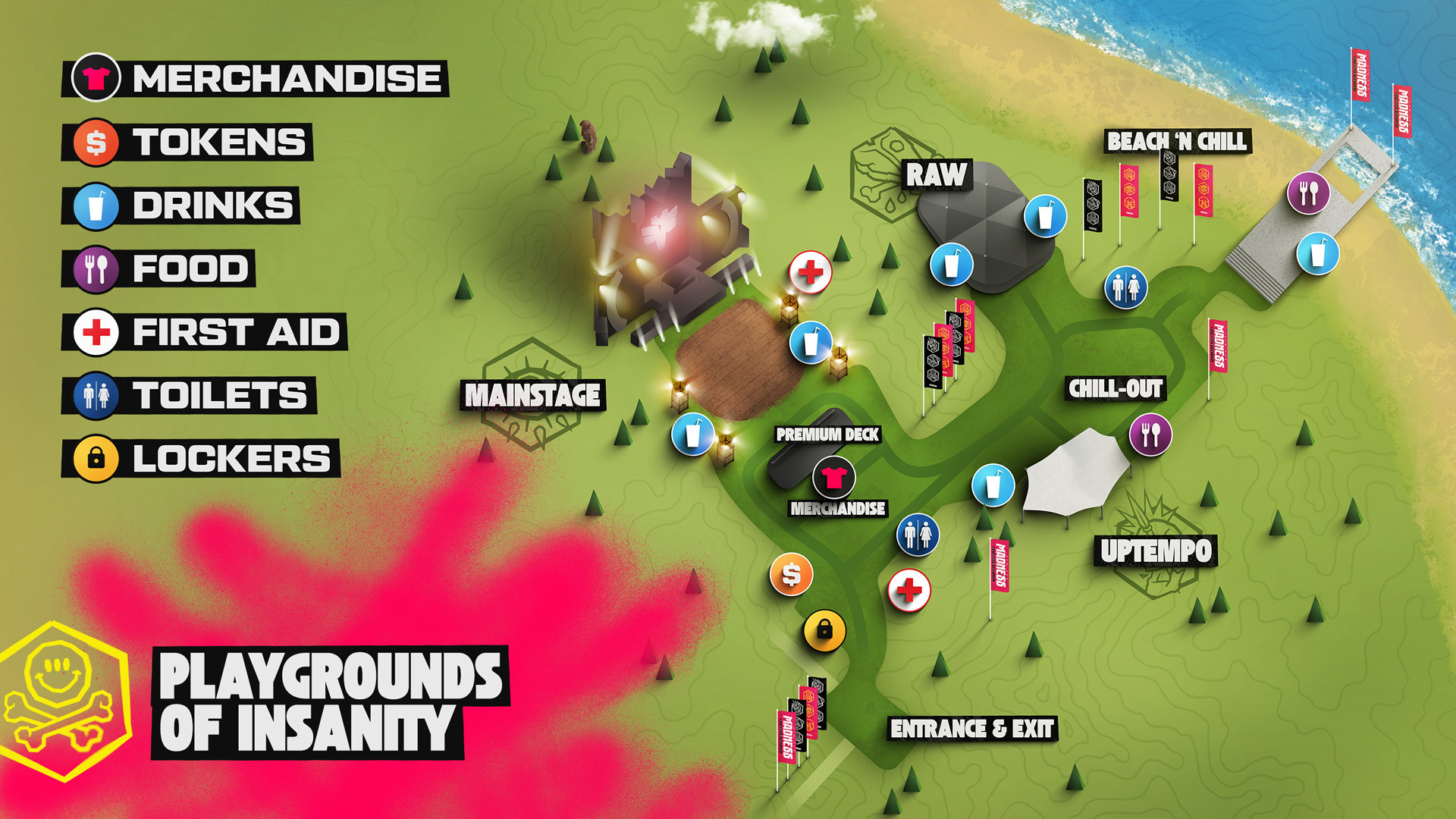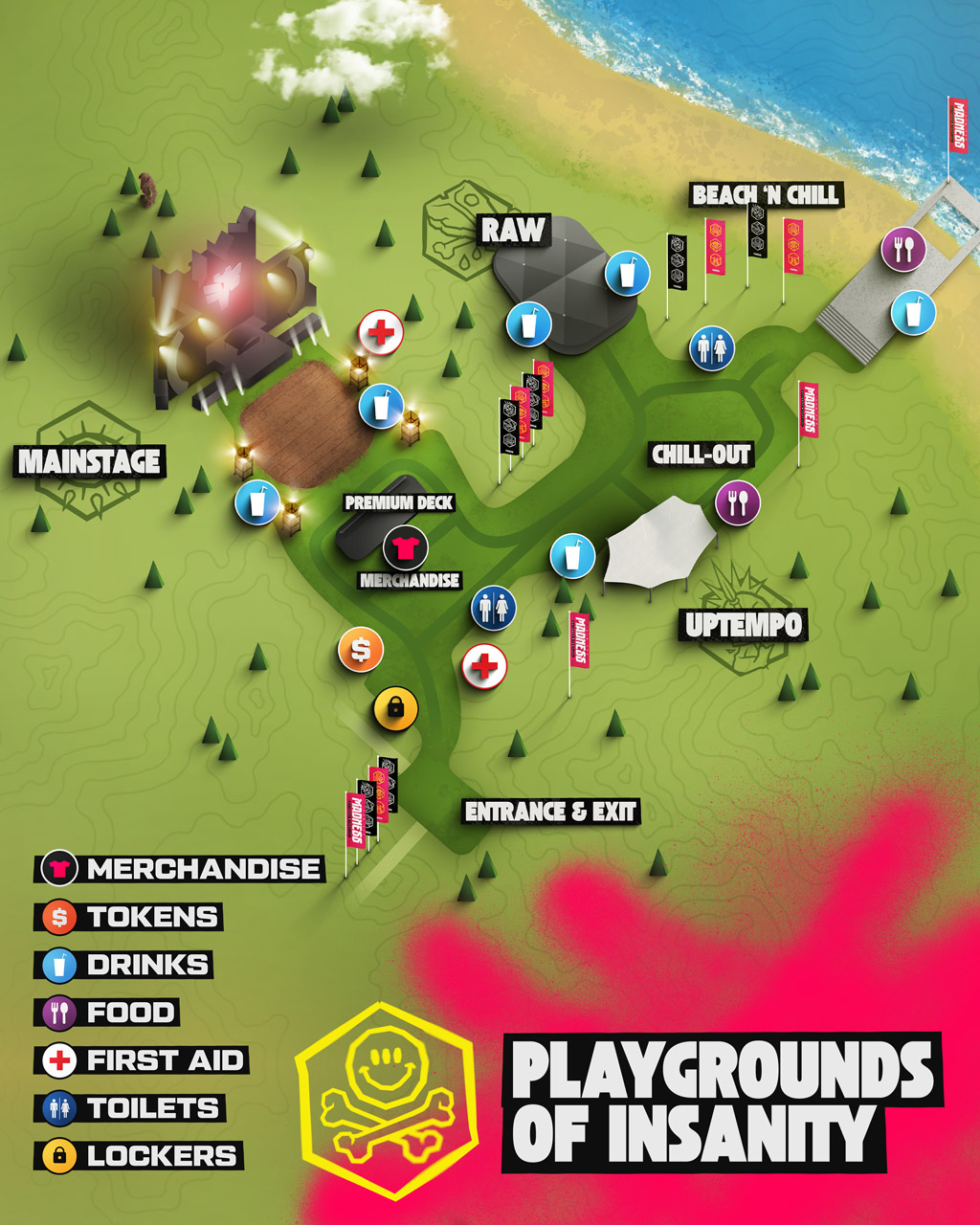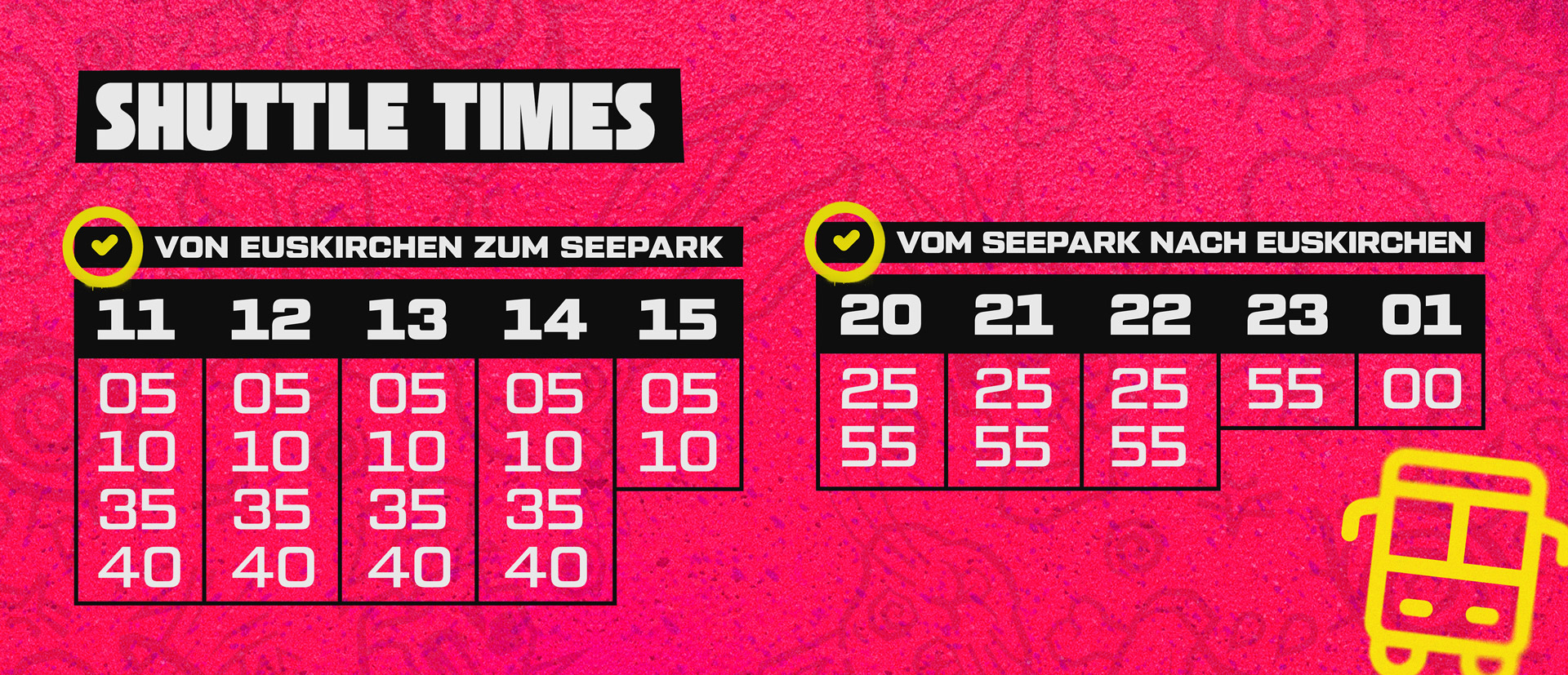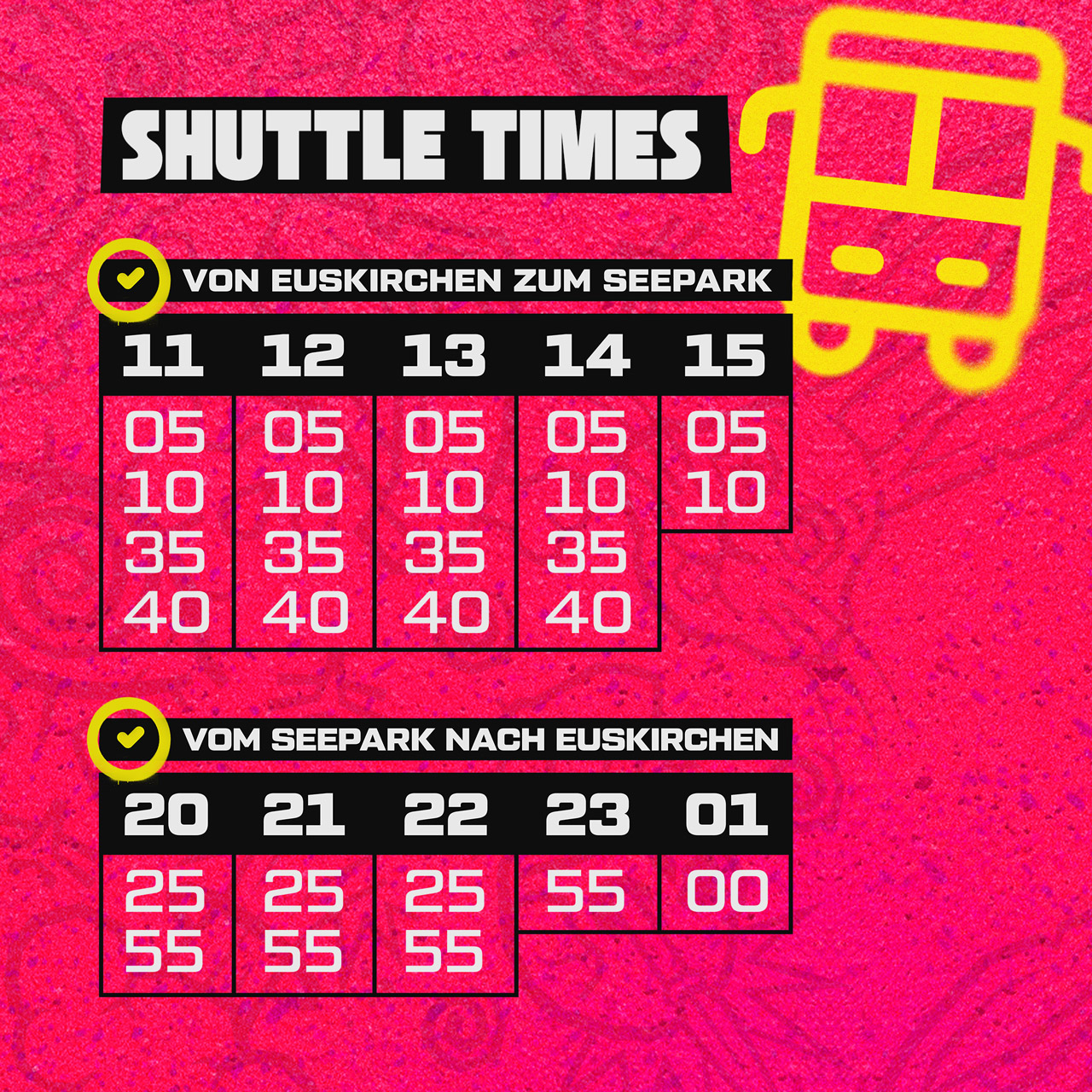 Allgemeine Infos
Adresse Parkplatz: Luxemburger Straße 50, 53909 Zülpich
Folge bei deiner Ankunft einfach den Beschilderungen, um zum Parkplatz zu gelangen. Wir bitten euch, die Umgehungsstraße B56n zu nutzen.
Wir bieten Shuttlebusse vom Bahnhof Euskirchen, Köln und Düren zum Veranstaltungsort an und im Anschluss wieder zurück an. Der Fahrplan wird noch vor der Veranstaltung veröffentlicht. Tickets hierfür könnt ihr jetzt schon unter den folgenden Links erwerben:
🚌 SHUTTLES Köln & Düren: 🔗 Hier klicken
🚌 SHUTTLES Euskirchen: 🔗 Hier klicken

Um eine sichere und entspannte Anreise zum Into The Madness zu gewährleisten, bieten wir Busreisen von vielen Städten in Deutschland an. Alle Abfahrtsorte und Tickets findest du auf den Webseiten unserer Partner:
🚌 BUS TOURS HardTours: 🔗 Hier klicken 
🚌 BUS TOURS Feierreisen: 🔗 Hier klicken
Öffnungszeiten Festival: 12:00 – 23:30
Öffnungszeiten Parkplatz: 10:00 – 01:00
ACHTUNG: Alle Fahrzeuge, die sich nach Schließung des Festivalgeländes noch auf dem Parkplatz befinden, werden kostenpflichtig abgeschleppt! Campen auf dem Parkplatz ist strengstens untersagt!
Es gibt einen Haupteingang am Festivalgelände. Je nach Ticketkategorie gibt es dort verschiedene Eingänge, die allesamt gekennzeichnet sind. Inhaber von Premium-Tickets haben dort eine separate Einlassschleuse.
Der Einlass ist ab 18 Jahren. Eine Übertragung der Personenfürsorge für Minderjährige unter 18 Jahren (z.B. Muttizettel) ist nicht möglich. Bitte haltet ein gültiges Ausweisdokument am Eingang bereit.
Kein Ausweis = Kein Einlass.
Aufgrund von Sicherheitsbestimmungen gibt es keinen Wiedereinlass beim Verlassen der Veranstaltung.
Wir sind sehr dankbar, unser Festival an einem Ort wie diesem veranstalten zu dürfen. Daher bitten wir euch, euren Müll sowie Zigaretten in den jeweils dafür vorgesehenen Behältern zu entsorgen, um die Location sauber zu halten und die Umwelt zu schonen. Dankeschön!
Wir geben uns sehr viel Mühe, damit wir alle zusammen das Event genießen können. Illegale Drogen oder zu viel Alkohol können deinen Tag schneller beenden als dir lieb ist. Gebt daher bitte auf euch selbst und eure Freunde Acht und passt aufeinander auf. Darüber hinaus verfolgen wir eine Null-Toleranz-Politik! Wer mit illegalen Drogen z.B. bei den Durchsuchungen am Eingang oder auf dem Gelände erwischt wird, wird umgehend der Polizei übergeben und erhält keinen Zugang zum Festival bzw. wird des Festivals verwiesen.
Wir haben selbstverständlich dafür gesorgt, dass das Gelände barrierefrei zugänglich ist und somit niemand aufgrund seiner körperlichen Einschränkung nicht am Event teilnehmen kann. Des Weiteren haben wir auch barrierefreie WCs und Parkplätze eingerichtet. Die Begleitperson eines Besuchers mit einem Behinderungsgrad ab 50% erhält gratis Eintritt bei Vorlage des bereits gekauften Tickets und ein Parkticket auf dem Crew-Parkplatz.
Wir möchten an dieser Stelle darauf hinweisen, dass jegliche Form von (sexueller) Belästigung zu einem Verweis vom Festivalgelände bzw. zu einer Anzeige führen wird. Falls du dich von jemandem belästigt fühlst, bitte wende dich sofort an den InfoPoint. Dort werden wir uns um dich kümmern.
Häufig gestellte Fragen – Allgemein
Ob es am Festivaltag eine Tageskasse geben wird, ist momentan noch nicht absehbar. Wir raten euch dringend, den Vorverkauf zu nutzen.
Speisen und Getränke
Verpflegung könnt ihr mithilfe von Tokens bezahlen, welche ihr vor Ort an einem unserer Automaten erwerben könnt. Die Tokenautomaten funktionieren lediglich mit Kartenzahlung, ihr könnt die Tokens allerdings auch an einer unserer Kassen mit Bargeld erwerben. Versucht dies aber bitte zu vermeiden, wir bevorzugen Kartenzahlungen (alle gängigen EC- und Kreditkarten außer American Express sind erlaubt).
Merchandise
Das gesamte Merchandise könnt ihr mit Bargeld oder auch via EC- oder Kreditkarte erwerben.
Parkplätze
Falls ihr mit dem Auto anreist, nehmt unbedingt Bargeld mit. Die Parktickets kosten vor Ort 10,00 EUR und können nur bar bezahlt werden. Kauft diese daher am besten vorher im Shop für 8,50 EUR.
Leider ist eine Rückgabe von Tokens nicht möglich. Kauft am besten nur so viele wie ihr auch benötigt. Solltest du am Ende trotzdem noch Tokens übrig haben, kannst du diese bei uns für einen guten Zweck spenden.
Ja, du kannst deine Sachen in einer Tasche, Turnbeutel, Jutebeutel, Rucksack etc. in DIN A4 Größe mitnehmen. Allerdings werden diese in unserer Einlassschleuse einer gründlichen Taschenkontrolle unterzogen. Da dies zu Wartezeiten führt, nehmt bitte nur das Nötigste mit aufs Festival! In einem unserer Schließfächer kannst du problemlos mehrere Jacken oder deine Taschen verstauen. Du kannst sie dir online unter intothemadness.eventsafe.eu für 9,95 EUR vorbuchen und dir somit den Aufwand vor Ort sparen.Wristbands werden zusätzlich am Info-Point (nur Kartenzahlung möglich) erhältlich sein.
Nein, das Mitbringen von eigenen Speisen und Getränken ist nicht gestattet. Es wird vor Ort jedoch ein umfangreiches Angebot an Speisen und Getränken angeboten.
Folgende Gegenstände dürfen nicht mit aufs Festivalgelände genommen werden: 
Schuss-, Hieb-, Stich- und sonstige Waffen aller Art

Werkzeug

Pfefferspray

Elektroschocker

Laserpointer

Nietenschmuck, ungewöhnlich lange Geldbeutelketten

Feuerwerkskörper oder sonstige pyrotechnische Gegenstände

alkoholische und nichtalkoholische Getränke aller Art

Drogen und Rauschmittel

Flüssigkeiten aller Art (außer Sonnencreme und Deo bis maximal 100ml)

Speisen aller Art

Selfiesticks

Motorradhelme

Glasflaschen/Glasbehälter, Dosen und PET-Flaschen

Konfetti

Tiere

Drohnen

sperrige Gegenstände
Werden diese Gegenstände bei einer Kontrolle gefunden, ist der Sicherheitsdienst dazu berechtigt, diese zu entsorgen. Bitte lasst sie zuhause!
Falls du darauf angewiesen bist, gewisse Medikamente zu nehmen, kannst du diese in kleinen Mengen mit dir führen.
Ja, Handykameras und handliche Digitalkameras sind generell erlaubt. Wir haben jedoch ein professionelles Foto- und Video-Team, welches das Event für euch festhalten wird. Wir empfehlen deswegen, eure Smartphones in der Tasche und die Kameras zu Hause zu lassen und den Abend mit euren eigenen Augen zu genießen. Professionelles Fotoequipment ist verboten.
Pünktlich zum Event wird es eine neue Merchandise-Kollektion von INTO THE MADNESS geben. Shirts, Hoodies, Flaggen, Schlüsselanhänger und vieles mehr könnt ihr vor Ort an unserem Merchandise-Stand erwerben. Wristbands werden zusätzlich am Info-Point (nur Kartenzahlung möglich) erhältlich sein.
Wir bieten keine Zigaretten zum Verkauf an. Solltest du Raucher sein, dann decke dich bitte ausreichend mit Zigaretten ein. Es wird einen Verkaufsstand mit Vapes von MIGO geben.
Jeder Gast bekommt am Einlass einen Recycle-Token. Dieser ersetzt das Becherpfand in Höhe von 0.5 Token. Bei Verlust dieses Tokens muss pro Getränk Pfand in Höhe von 0.5 Token bezahlt werden.
Ja, beim Merchandise-Stand wird Gehörschutz zum Verkauf angeboten.
Fundsachen können während der Veranstaltung am Info-Point beim Eingang abgegeben bzw. abgeholt werden.
Aus Sicherheitsgründen ist es leider nicht erlaubt, im See zu schwimmen.
Häufig gestellte Fragen – Tickets
Den Weiterverkauf von Tickets kannst du nur über TicketSwap abwickeln – dabei werden die Tickets automatisch umpersonalisiert.

Auch kannst du dein Ticket jederzeit selbst über my.ticket.io umpersonalisieren.
Nein, Tickets für das Into The Madness Festival können nicht zurückgegeben werden. Auch im Falle einer Krankheit (z.B. Corona-Infektion) sind Rückerstattungen nicht möglich. Wir bitten um Verständnis.
Häufig gestellte Fragen – Sicherheit
Ein Team vom Deutschen Roten Kreuz wird vor Ort sein und sich um euch kümmern.
Bitte folge den Anweisungen bzw. Durchsagen des Veranstalters und der Ordner, sollte es zu unvorhergesehenem starken Sturm, Regen, Gewitter oder Bränden kommen. Falls das Festival unterbrochen oder gar abgebrochen und das Gelände geräumt werden muss, wird dies bekannt gegeben und alle notwendigen Maßnahmen zu eurer Sicherheit durchgeführt.
Kulturpass
Für alle 18-Jährigen: Kostenlos zu Into The Madness mit dem Kulturpass
Du bist (oder wirst) zwischen dem 01.01.2023 und dem 02.09.2023 18 Jahre alt? Dann kannst Du unser Festival kostenlos mit dem Kulturpass der Bundesregierung besuchen. Alle weiteren Informationen findest Du hier:
General Info
Address parking lot: Luxemburger Straße 50, 53909 Zülpich
When you arrive, follow the signs to get to the parking. We ask you to use the bypass B56n.
We offer shuttle buses from Euskirchen train station, Cologne and Düren to the event and back afterwards. The timetable will be published before the event. You can already buy tickets for this under the following links:
🚌 SHUTTLES Köln & Düren: 🔗 Click here
🚌 SHUTTLES Euskirchen: 🔗 Click here

To ensure a safe and relaxed journey to Into The Madness, we offer bus trips from many cities in Germany. All departure points and tickets can be found on the websites of our partners:
🚌 BUS TOURS HardTours: 🔗 Click here
🚌 BUS TOURS Feierreisen: 🔗 Click here
Opening hours festival: 12:00 – 23:30
Opening hours parking: 10:00 – 01:00
ATTENTION: All vehicles that are still in the parking lot after closing of the festival area will be towed away. The towing costs will be for the owner of the car. Camping in the parking lot is strictly prohibited!
There is one main entrance at the festival site. Depending on the ticket category, there are different entrance gates, all of which are marked. Premium ticket holders have a separate entrance gate there.
Admission is from the age of 18. Transfer of personal care for minors under 18 is not possible. Please have a valid identification document ready at the entrance.
No ID = No admission.
Due to security regulations, there is no re-entry when leaving the event.
We are very grateful to be able to hold our festival in a place like this. Therefore, we ask you to dispose of your trash as well as cigarettes in the designated bins in order to keep the location clean and to protect the environment. Thank you!
We try very hard to make sure we can all enjoy the event together. Illegal drugs or too much alcohol can mean that your party ends  faster than you would like. So please take care of yourselves and your friends and watch out for each other. Furthermore, we have a zero-tolerance policy! Anyone caught with illegal drugs, e.g. during the searches at the entrance or on the venue, will immediately be handed over to the police and will not be allowed access to the festival.
We pay a lot of attention to make our grounds easily accessible, so that no one will be unable to take part in the event due to their physical limitations. On-site we will provide easy accessible barrier-free toilets and parking spaces. The accompanying person of a visitor with a degree of disability of 50% or more will receive free admission upon presentation of the ticket already purchased and a parking ticket in the crew parking lot.
We would like to point out here that any form of (sexual) harassment will result in an exclusion from the festival or a report to the police. If you feel harassed by someone, please contact us immediately at the InfoPoint. There we will take care of you.
FAQ – General
Whether there will be a box office on the day of the festival is not yet foreseeable. We strongly advise you to buy your tickets in advance.
Food and drinks
You can pay for food and drinks with tokens which you can buy at one of our vending machines or cash registers. The token machines only work with card payments, but you can also buy tokens with cash at one of our cash desks. Please try to avoid cash payments, as we prefer card payments (all major EC and credit cards are accepted, except for American Express).
Merchandise
All merchandise can be purchased with cash or via EC or credit card.
Parking spaces
If you arrive by car, please take cash with you. The parking tickets cost 10,00 EUR and can only be paid in cash. It is therefore best to buy them in advance in the store for 8.50 EUR.
Unfortunately, it is not possible to return tokens. We recommend buying only as many of them as you need. If you still have tokens left at the end, you can donate them to a good cause.
Yes, you can bring your things in a bag, gym bag, jute bag, backpack etc. in DIN A4 size. However, these will be subject to a thorough bag check at our entrance gate. To narrow down waiting times,  please take only what you need with you to the festival! In one of our lockers you can easily store several jackets or your bags. You can pre-book them online here for 9.95 EUR and save yourself the hassle on site. 
Sorry but bringing your own food and drinks is not permitted. However, there will be a wide range of food and drinks available on site.
The following items may not be taken onto the festival grounds: 

firearms, cutting weapons, stabbing weapons and other weapons of any kind

Tools

Pepper spray

Stun guns

Laser pointer

Studded jewelry, unusually long purse chains

Fireworks or other pyrotechnic objects

Alcoholic and non-alcoholic beverages of any kind

Drugs and intoxicants

Liquids of any kind (except sunscreen and deodorant up to a maximum of 100ml)

Food of any kind

Selfie sticks

Motorcycle helmets

Glass bottles/glass containers, cans and PET bottles

Confetti

Animals

Drones

Bulky objects
If these items are found during a control, the security service is authorized to dispose of them. Please leave them at home!
If you are dependent on taking certain medications, you may carry them with you in small quantities.
Yes, smartphone cameras and handy digital cameras are generally allowed. However, we have a professional photo and video team that will capture the event for you. We therefore recommend that you leave your smartphones in your pockets and your cameras at home and enjoy the evening with your own eyes. Professional photo equipment is prohibited.
During the event we will present a wide-range of exclusive "Into The Madness" merchandise items. Shirts, hoodies, flags, key hangers and much more can be purchased on site at our merchandise booth. Wristbands will also be available at the Info-Point (only card payment possible).
Each guest will receive a recycle token at the entrance which replaces the deposit of 0.5 tokens. If this token gets lost, a deposit of 0.5 tokens must be paid per drink.
We do not offer cigarettes for sale, so if you are a smoker, please stock up on cigarettes. There will be a stand selling MIGO vapes.
Yes, hearing protection will be available for sale at the merchandise booth.
Lost and found items can be dropped off or picked up at the Info Point near the entrance during the event.
Unfortunately, it is not allowed to swim in the lake due to safety reasons.
FAQ – Safety
A team of medics by the DRK will be on site to take care of you.
Please follow the instructions or announcements of the organizer and the stewards in case of unforeseen heavy storms, rain, thunderstorms or fires. If the festival has to be interrupted or even canceled and the area has to be evacuated, this will be announced and all necessary measures will be taken for your safety.
FAQ – Tickets
You can download your ticket at any time by logging in to https://my.ticket.io/. If you cannot access your ticket for any reason, please contact ticket.io's support team at https://www.ticket.io/support or send an email to support@ticket.io.
You can also re-personalize your ticket yourself at any time via my.ticket.io.
You can only resell tickets via TicketSwap – the tickets will be repersonalized automatically.
No, tickets for the Into The Madness festival cannot be returned. Also in case of illness (e.g. Corona infection) refunds are not possible. We ask for your understanding.